Technical Briefings and Events
Sharpen your development skills by attending any of a variety of technical briefings happening near you. Learn from hands-on demonstrations given by industry experts who can help you increase your productivity and shorten your learning curve.
•



•


UDB and Borland Resources
Consult this sampling of articles for complete examples of building reusable data components that access DB2 data using Delphi, Kylix, C#Builder, and C++Builder.
•



•



•

For more information, see the .
DB2 UDB CDs and Downloads
The Database and Data Management download center offers links to all available downloads in the DB2 UDB family.
You can also download:
•



•



•



•

DB2 UDB 8.2 is Here
Check out DB2 UDB 8.2, which accelerates times to value, improves integration, and offers many autonomic and self-managing capabilities. Click here for more information.
---
Linux and DB2
DB2 UDB for Linux is:
Flexible—DB2 UDB implements open standards such as SQL and XML and runs on Linux from handhelds to clusters to mainframes
Reliable—DB2 UDB for Linux is based on its proven reliability running on Unix and Windows
Cost Effective—Pure power at a lower cost than any other e-business-ready Linux database on the market
DB2 UDB 8.2 Enhancements for Linux

Speed-Start Your Linux App
Ready to build and deploy on demand apps and Web services for Linux? Then you need the latest DB2 Universal Database, WebSphere Application Server, WebSphere Studio Site Developer, Lotus Domino, and Tivoli Access Manager trial code for Linux—all on a no-charge DVD from IBM! The DVD of Linux trial code is part of a two-DVD Software Evaluation Kit (SEK).

MySQL to DB2 UDB Conversion Guide
DB2 Universal Database (DB2 UDB) has long been known for its technology leadership. This IBM Redbook is an informative guide that describes how to migrate the database system from MySQL to DB2 UDB Version 8.1 on Linux, and how to convert applications to use DB2 UDB instead of MySQL.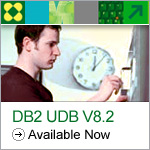 Announcing IBM Cloudscape Version 10
IBM Cloudscape is an open-standards, small-footprint database that tightly embeds into Java applications. Cloudscape aims to be easy to use for software developers and requires zero administration for end users. Visit the Cloudscape home page on developerWorks.
Related Links
•
•



•



•